Back To Projects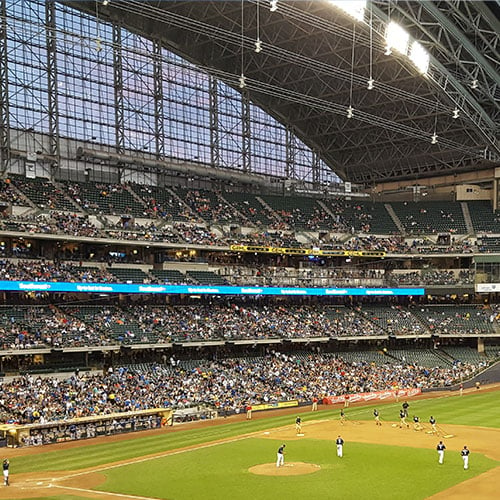 American Family Field Stadium Data
The growing demand for wireless technology in order to improve the fan experience, upgrades to scoreboards, home run and strikeout counters and sound systems, and the addition of a high definition display board, necessitated a more resilient and reliable data communication network inside American Family Field (at the time called Miller Park). Lemberg installed wireless technology to an existing infrastructure.
This project included a fiber optic backbone to support copper Cat6A network and state-of-the-art transfer speeds. The project, which included 611 wireless devices, was completed in four months. A new wireless network to support mobile check-in, social media, instant rewards, map and seating access, exclusive content and merchandise/concessions ordering directly from stadium seats.
Lemberg Signs and Lighting also managed the design and installation of signage for several concessions and special reservation spaces within the stadium.
Project Features
Cat6A Network
Fiber Optics
Structured Cabling
611 Wireless Devices
WiFi
Details:
Location: Milwaukee, WI
Industry: Arts/Entertainment
Divisions: Data
Project Type: Remodel/Expansion/Upgrade