Back To Projects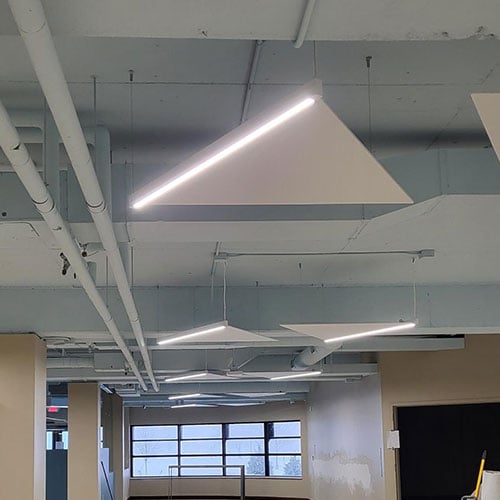 Concordia University Physical Therapy and Occupational Therapy
Lemberg's Electrical Construction team provided design assist services and the electrical wiring for the remodeling of an existing office area into a new Physical and Occupational Therapy Training and observation space. The space will be used to train college students in the Physical and Occupational Therapy program how to properly monitor, teach, and help patients in their everyday lives.
The space features a simulated apartment used to train students how to help patients navigate homes that may not offer disability accommodations. It also features two observation areas with technology for teaching and monitoring student performance, specialized training areas throughout an open gym that also contains therapy equipment. To provide sleek sound control in the open space, acoustical sound tiles are artfully connected to the LED lighting fixtures.
There are also four simulated hospital rooms complete with "live" head walls for measuring and monitoring patient health statistics, and a connection to an air compressor for oxygen that is used on the patients. These areas are also equipped with a camera system used to view and record for training purposes. One of these four rooms features a patient lift system.
Lemberg's data communication team coordinated with the Concordia's IT Director to install the low voltage systems and coordinating technology used in the space. This included the structured cabling, access control system, audio/visual, cameras, WIFI and digital display units.
See other projects done with Concordia University.
Project Features:
Design Assist
Electrical Wiring
LED Lighting
Camera System Installation
Structured Cabling
Access Control System
Audio/Visual (A/V)
WIFI Installation
Details:
Location: Mequon, WI
Industry: Institutional/Education
Divisions: Construction, Data
Project Type: New Construction
Year Completed: 2023