Back To Projects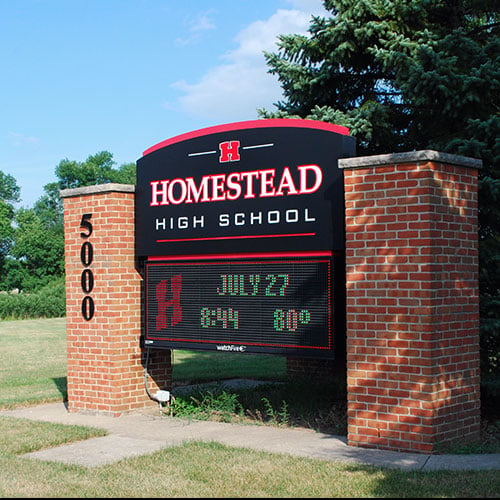 Homestead High School
Lemberg's electrical construction and data communications teams worked to update Homestead High School for its 2021 school start. The project was a Plan/Spec remodel of nearly 20,000 sq. ft. of space, which included the administrative and principal's office areas, the reception area, work rooms, nurse stations, rest rooms, and more. Agile construction project management and prefabrication were provided.
The front entrance was relocated and modified to include a more secure entry system and a larger gathering space. The team provided the electrical wiring, door access and building security systems as well as cameras, aesthetic and energy efficient lighting. Two large group instruction rooms were created out of existing space and two outside classrooms for large group instruction were created out of courtyard space.
The teams took extra measures for productivity and safety so that work could continue while the school was open for summer activities. Weather resistant receptacles were provided for the large outdoor group instructional space in the courtyard. "NLight" lighting controls were installed to wirelessly control the lighting.
Project Features:
Electrical Wiring
Power Distribution
Building Security, Door Access
Cameras
Energy Efficient Lighting
nLight Controls
Prefabrication (prefab)
Details:
Location: Mequon, WI
Industry: Institutional/Education
Divisions: Construction
Project Type: Remodel/Expansion/Upgrade
Year Completed: 2021