Back To Projects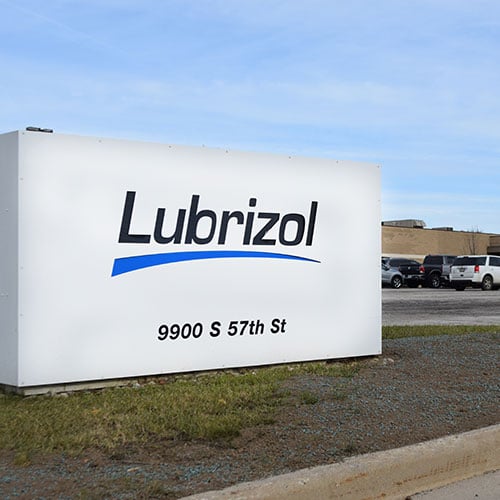 Lubrizol
The Lemberg Electrical Service team assisted Lubrizol with a 52-machine move to create 6000 sqft of space for expanded manufacturing capabilities in its facility. Lubrizol is specialty chemical company, which manufactures ingredients and additives used in personal care products, pharmaceuticals, plastics technology, performance coatings and more.
This project included the addition of electrical capacity in multiple voltages to free up available power for the new tenant's machines.
The team coordinated a wide array of off-shift work to accommodate Lubrizol's production schedule and high-level "clean room" atmosphere. To keep labor costs down, Lemberg's team also built isolation walls so that some of the work could continue during normal business hours.
Lemberg continues to provide regular service and standard electrical preventive maintenance services for Lubrizol.
In 2022, Lemberg performed a coordination study to calculate the arc flash values within the electrical system at the Lubrizol facility. Assigning a risk factor allows both the facilities managers and visiting electricians to determine the proper PPE needed during maintenance. Lemberg provided a comprehensive one-line diagram of the entire electrical system to determine the overcurrent protection needed and the available fault current from the power company. A comprehensive diagram allows both the facilities managers and support electricians to better protect manufacturing machinery against power surges and understand the arch flash levels of each piece of electrical equipment.
Additionally, in order to safely assess high amperage equipment, Lemberg installed specialized IR windows that allow IR Scanning. These allow a technician or electrician to perform an IR scan from a safe distance. Lemberg then performed a full IR scan to assess the equipment and replacement part needs for an upcoming planned maintenance outage.
Lemberg also disconnected a transformer during an unscheduled shutdown. They found the transformer had an obsolete breaker that was faulty, so the team replaced the entire transformer with a newer, more cost effective and reliable transformer and feed.
Lemberg provided prefabrication for feeders on this project.
Project Features:
Electrical Wiring
Machine Moves
Clean Room
Isolation Walls
Power distribution
Coordination Study / Arc Flash Risk Assessment
IR Scanning
Electrical Preventive Maintenance
Prefabrication (prefab)
Details:
Location: Franklin, WI
Industry: Industrial/Manufacturing
Divisions: Service
Project Type: Service-Maintenance
Year Completed: 2021