Large or small, a trusted partner for all your signage needs.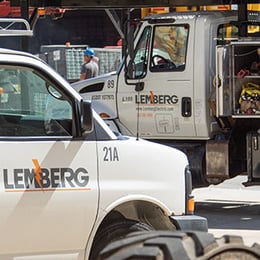 Lemberg's certified sign installation technicians are backed with engineering experience and will facilitate any size installation project for small and large, illuminated and non-illuminated interior, and exterior signs. Prior to installation, our team will conduct a thorough site audit to ensure delivery logistics are considered in addition to conducting critical code research, technical audits and procurement of necessary permits.
A National Sign Partner in Wisconsin
We offer the same signature turnkey solutions to both our local and national customers. With proactive project management and customer-centric service, we'll make sure you are well-informed from site survey and permitting to installation and site clean-up.
Built on the foundation of safe practice and a commitment to quality.
The Lemberg certified sign installation crew includes a full-time safety director who is committed to keeping safety at the forefront of all our small and large-scale installations. Additionally, our full-time operations manager keeps efficiency, customer requirements, and timelines a key focus for each project in which our team is involved.
Lemberg is bonded and insured
All installers and crane operators are OSHA 30 certified
Each site receives a rigorous safety inspection prior to installation
Scheduling system to ensure deadlines are met
An industry leader in equipment capabilities.
The Lemberg sign installation team is equipped with the industry's most innovative resources including:
Full fleet of bucket and crane trucks
High-rise rappelling capabilities
Fleet inventory management system
As a company that has been in business since 1928 and an award-winning staff with more than 150 years of combined experience, the professionalism and communication capabilities of the Lemberg certified installation team cannot be exceeded.
Are you a national signage manufacturer that needs a highly respected and trusted partner? Contact us for more information.
Lemberg, a full-service Milwaukee sign, electric and data/comm company, proudly serving Wisconsin.