Professional Sign Installation Services For your Commercial Business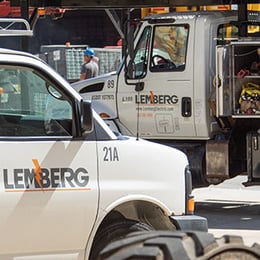 Lemberg is a respected and trusted partner to local and national customers for award-winning sign design and professional commercial sign installation services.
A Sign Installation Company Built on the Foundation of Safe Practice and a Commitment to Quality
Project Management: With proactive project management and customer-centric service, we'll make sure you are well-informed from site survey and permitting, to installation and site clean-up.
Sign Maintenance: We will help you to create a customized preventive sign maintenance program so you can avoid emergencies.
Installation Team: Our commercial sign installation team is equipped with high-rise capabilities and swing-stage certification. They are backed with engineering experience.
Process: Our process includes a thorough site audit to ensure delivery logistics, critical code research, technical audits and procurement of necessary permits.
Safety: Our certified sign installation crew includes a full-time safety director who is committed to keeping safety at the forefront of all our small and large-scale installations. Every job site receives a rigorous safety inspection prior to installation. Our teams are required to attend regular training to meet OSHA standards.
Operations: Our full-time operations manager focuses on keeping your project efficient, on time and on budget. We use a fleet inventory management system to track and schedule a full fleet of bucket and crane trucks.
Bonded, Insured, Certified: Lemberg is bonded and insured and all installers and crane operators are OSHA 30 certified.
Lemberg, a full-service Milwaukee sign, electric and data/comm company, proudly serving Wisconsin.