Sign Construction Options
When planning for your business signage, it is important to consider the ultimate location of the sign, community restrictions, future maintenance, desired purpose, and your audience demographics. Our design team will work with you to find the right type of sign and the right blend of design options and materials to fit the needs of your primary or secondary brand signage.
Sign Styles
There are many style options that guide the manufacturing and design of a sign. From illumination to mounting, the possibilities are endless!
Signs may be electric and illuminated or non-illuminated.
Signs may stand alone or be mounted to a building.
Signs may integrate an electronic message center into the design for enhanced communications.
A sign's design and construction can take many forms.
Place your brand on an illuminated box.
Replicate your font in channel letters.
Represent your brand with dimensional or "architectural" signage.
Whatever combination of options you choose, your brand signage can be works of identifying art that make your business unforgettable in the eyes of your customer.
Illumination
LED technology provides more lighting options in signage than ever before. LEDs are bright and come in a multitude of colors and applications, allowing for exciting customization of your signage. Between this and traditional florescent lamps, our design team will work with you to determine the best lighting application for your brand and your budget.
Materials Used in Sign Making
Each material used in sign making comes with varying degrees of strength, corrosiveness, weights, and ease of assembly, installation, and service -- all of which affect the cost of the signage.
Bases & Mounts
Bases and mounts are generally constructed from aluminum or steel. Durability and strength are important, especially for outdoor signage that must withstand weather and wind. Your designer will make recommendations based on the sign placement, which in higher locations may have very different elemental challenges than those placed on the ground.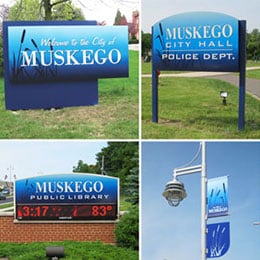 Faces
The materials used in the construction of the face of your sign will be determined by the sign's placement and usage as well. Most commonly, faces are constructed from various plastics such as acrylic, polycarbonate, or cellulose acetate butyrate. These have varying degrees of durability.
For signs that span large areas, a canvas-like, flexible material referred to as Flexible Face may be used to keep the sign from becoming too heavy. Architectural, 3-dimensional, and other signs that require a thermoformed face will be constructed from a moldable material.
Vinyl is used for smaller signs and decals. Vinyl can be hand-cut to fit a tight space, has even color and can be translucent, opaque or reflective.