Structured Cabling for a Workplace that Works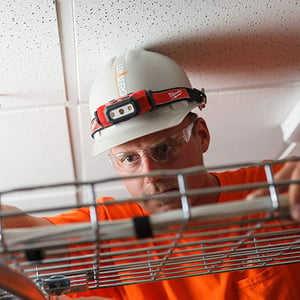 Structured cabling is a telecommunications infrastructure of networked low voltage cabling and components that support services that transmit data such as telephones, computers, security cameras and building access.
Expertly designed and installed structured cabling is essential to a high-performing workplace -- one that can meet both your current and future low voltage cabling needs. Whether your project is new construction, upgrades or expansion, our experienced team will help you identify the voice, data, access control, and building automation systems required to support your unique needs, vision, and budget.
Our data communications team will craft and install your ideal low voltage cabling design involving all the necessary elements:
Horizontal Cabling
Backbone Cabling
Communication Room Requirements
Integrated Facilities Systems
In addition, our customer-focused service includes warranty and maintenance through testing and certification of your structured cabling system as well as CAD drawings of floor plans, device details, and labeling.
Data Communications and Customer Experiences
Data cabling and communications projects not only need to be properly designed and installed, but they must also address tight timeframes, challenging circumstances, and budgetary considerations.
Ready to start your customer experience with the Lemberg data communications team? Call us today at (262) 781-1500 or visit our Request a Quote page.
Industries Served
As Milwaukee's most reliable and qualified low voltage contractor, we take great pride in serving the following industries throughout Wisconsin:
Sports & Entertainment
Industrial/Manufacturing
Commercial Office/Retail
Healthcare/Pharmaceutical/Medical
Educational
IT/Data Centers
Please see our Featured Projects page for insights on those we've served in multiple industries.
Data Communications Case Studies
Visit our Case Studies section for examples of meeting customers' data communication needs.
"Easy to reach, service is great! I'm very happy with my Lemberg experience!" - Deb H., IT director
Low Voltage Cabling Vendors and Products
We partner with well-recognized industry leaders to design and install your ideal data communications and low voltage cabling solution:
Johnson Controls
Automated Logic
Siemon*
Hubbell*
Panduit*
Axis*
*Installation and programming certified