The "Winter & Holiday Electrical Checklist.
By following a few simple electrical safety practices this winter, you can keep your family and business safe from incidents involving electricity.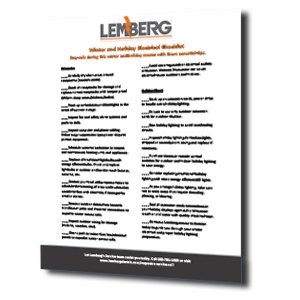 Download the checklist of essential winter and holiday safety tips today.
12 tips to winterize your home or office
9 tips to properly prepare for your holiday decorating
Need more help? Request a service call from our expert technicians now.
Lemberg specializes in 24-hour electrical service, signage, data communications, energy management and electrical construction. We've been satisfying customers in southeastern Wisconsin since 1928 through quality, collaboration and integrity. Visit our website to learn more about our services.