Our second floor office space was completed earlier this spring and several departments have since settled in, including data communications, estimating and marketing. The process of acclimating to new neighbors is also complete. Business is back to normal in the bright and cheerful space. Except, there IS one small issue.
There's an area just inside the doors to the office space that called for a "little something." We purchased a gleaming chrome and glass table with that has a modern vibe but it needed some "table-scaping" and some artwork.
Enter an old picture that had moved from our State Street location but never found a spot at the 128th Street. It sat in storage until one day it ended up in our marketing department as a reminder of our past to be used, somehow, for our 90th celebration story. It was an aged black and white shot of our old State Street location with some vintage trucks in the foreground that were pulled into place by Ralph Gugerty, now retired. The tones of the image and its chrome frame seemed perfect for the spot above the shiny new table.
We hung it, not considering it had a past and a story. That is, until we uncovered a 1993 Polaroid picture of our State Street office space with the same exact picture hanging in the background.
In its previous life, the image was part of a wall display that featured black and white images of projects done around southeastern Wisconsin, an outward expression of pride for a wood-paneled conference room.
Here are the two placements side by side. The picture's new home gives it fresh relevance and proves that some things are fine the way they are.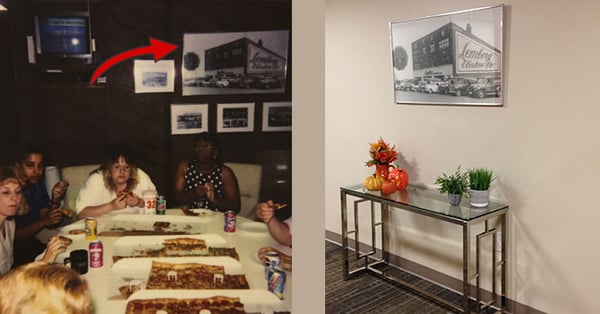 PS. Not only is the picture just fine the way it is, the practice of sharing a pizza is still fine too. The group in the vintage shot are enjoying some seriously good looking pizza - for what celebration, we are not sure. At any rate, we still enjoy coming together over lunch on a regular basis here at Lemberg.
How do you bring your teams together?