Here's another installment of Hagen's Hikes, following the progress of Tim Hagen as he treks Wisconsin's Ice Age Trail on his way to the 1000 Mile Club. Hagen's journey started last December when he walked 6.2 miles along some Waukesha County trails. After learning the health benefits and enjoying the solitude of hiking, the decision to become an Ice Age Trail Thousand-Miler was easy. Old Man Winter gave Hagen a few challenges, but he gave it right back. Here's how he fared in spring.
The Green of Wisconsin Spring
The transition from winter to spring was unpredictable and tested our Service Managers Tim Hagen and Matt Schmidt. Schmidt, who joined Hagen's hikes more frequently this season, provided the safety of numbers and an extra set of military-grade skills. Together, they navigated the elements and conditions along the portions of the Ice Age Trail that lie just outside the Milwaukee/Waukesha County lines.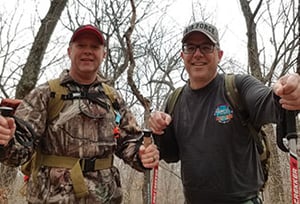 Between April and June, Hagen and Schmidt experienced the slow waking of the winter-drunk countryside, the sleepy hills that are more than holy and the swollen lakes with names that appeal to all senses like Whitewater, Pike and Cedar. The two hiked several of the segments toward Hagen's ultimate 1000-mile goal and by June, Schmidt had logged his first 100 miles. [image: Hagen and Schmidt]
Wisconsin, in her usual spring tizzy, did not offer a kind environment for our outdoor enthusiasts. Hagen and Schmidt experienced temps between 30 and 70. Sometimes a single day could range 20 degrees. Despite seeing temps near the high 60's toward the end of this second quarter, their hikes were dominated by snow, wind and overcast skies that threatened rain on nearly every excursion.
No matter what the challenge, however, the two remained positive taking each challenge as preparation for longer, more remote hikes in the future. They even started assigning themselves challenges like purifying water from natural sources to keep themselves hydrated -- a skill that will prove valuable in the hot summer months. On one occasion, after Schmidt took leave for the day, Hagen camped in an open-air shelter and experience the back pain that only comes from sleeping on a bad air mattress – the kind that makes for great storytelling!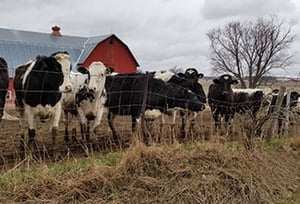 This spring, Hagen and Schmidt were joined on the trail by wildlife of many kinds including a rare scarlet tanager, pileated woodpeckers, deer, hawks, turkey vultures, black birds, sandhill cranes, tree frogs and toads. Early in the spring, Hagen was approached by a line of friendly and curious cows [see image]. But no creature was as prevalent or as determined as the unofficial Wisconsin mascots: the mosquito and the deer fly. Hiking with these pesky companions required head to toe covering and netting just to keep it bearable.
In all, Hagen and Schmidt averaged about 9 miles a hike this spring covering over 80 miles of Washington, Walworth, Jefferson, Fond du Lac, and Sheboygan counties. The land they trekked was hilly, rocky terrain with dense underbrush -- the typical topography formed by the last continental ice sheet that covered most of the state. They witnessed the blooming of woodland flora and the greening of the mossy forest floor and heard the spring waters rush against the riverbanks.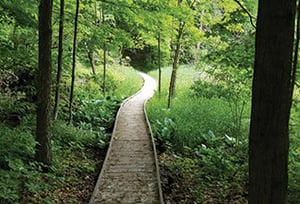 For these quiet adventurers, the wild Wisconsin countryside is where they are most comfortable. Any trials they've experienced are payment for the opportunity to see Wisconsin's hidden and overlooked gems. Using a Wisconsin Ice Age Trail Guidebook, Hagen and his guests can be intentional about finding landmarks like an old artesian well from the 1800's, an old Pioneer Cabin, and the historic non-urban shoreline of the Milwaukee River [see image]. They also stumble upon surprises like tornado-damaged areas that resembled war zones.
Hagen and Schmidt have chosen to take the roads less traveled and met the beauty of nature that colors the Wisconsin woods in a spring green that Crayola could only dream of.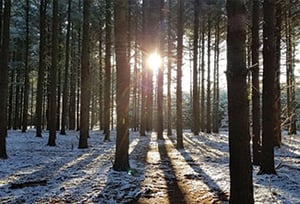 Until next time…
See the growing photo album on Facebook.