Back To Projects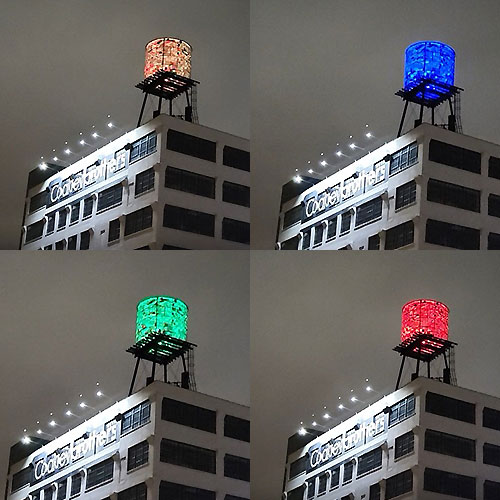 Coakley Brothers Water Tower LED Lighting
Lemberg provides regular electrical services to Coakley Brothers and Brothers Interiors. Recently, the team assisted Coakley with a unique project: the relighting of the iconic Coakley Brothers Water Tower, an art installation that sits atop the Coakley Brothers Water Tower Building. The installation is a transparent stained-glass cylinder shaped like a vintage water tower.
Artist Tom Fruin was commissioned by owner Peggy Coakley to create the water tower piece after she observed a similar piece in Brooklyn, NY. The water tower was originally lit with white LED fixtures that overpowered the stained-glass panels and that had begun to fail. Lemberg was consulted to replace the white LED light fixtures with color-changing LEDs, providing her team the flexibility to use the tower to support holidays or awareness campaigns such as breast cancer or domestic violence.
The illuminated water tower has become a symbol for the company and an icon in the Walker's Point area of Milwaukee. It echoes similar LED lighting efforts such as the Brighten the Passage project, which Lemberg also helped to bring to fruition.
Read more about the Coakley Brothers Water Tower here.
Project Features
LED Lighting
Electrical Wiring
High Rise/High Density
Design Build
Details:
Location: Milwaukee, WI
Industry: Commercial
Divisions: Service
Project Type: Remodel/Expansion/Upgrade
Year Completed: 2022