Part 1: 7 Key Data Communications Key Planning Considerations for New Construction, Remodeling and Expansions.
It may not be possible to anticipate every detail of a new construction, remodeling, or expansion data communications project. But with the right planning tools, you can conduct a thorough needs-assessment that will inform your design-build planning and set you up for a more successful outcome.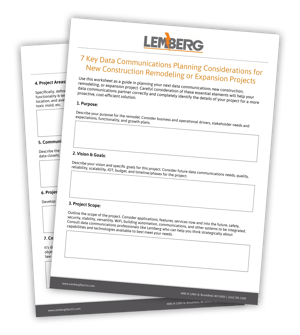 Unanticipated changes may derail a project, so it's important to have an effective and accurate planning tool that walks you through the essential elements of your project, large or small – one that can improve your budgeting and estimating process (more on this later).
We've developed a worksheet that offers seven key considerations for the effectiveness and accuracy of your next data communications project. Download this free worksheet to help you work through each key section outlined below.
7 Key Data Communications Planning Considerations
To make planning as accurate and complete as possible, here are the seven key considerations you'll want to have clarity on:
1. Purpose:
Describe your purpose for the remodel. Consider business and operational drivers, stakeholder needs & expectations, functionality, and growth plans.
2. Vision & Goals:
Describe your vision and specific goals for this project. Consider future data communications needs, quality, reliability, scalability, IoT, budget, and timeline/phases for project.
3. Project Scope:
Outline the scope of the project. Consider applications, features, services now and into the future: safety, security, stability, versatility, WiFi, building automation, communications, and other systems to be integrated. Consult data communications professionals, like Lemberg, who can help you think strategically about capabilities and technologies available to best meet your needs.
4. Project Areas:
Specifically define your project scope as it relates to the actual facility. Consider the areas to be remodeled, functionality & technology needed, civic/regulator restraints and historical elements, space, building codes, location, and availability of building architectural drawings. Consider possible hazards such as asbestos, lead, toxic mold, etc.
5. Communications Room(s):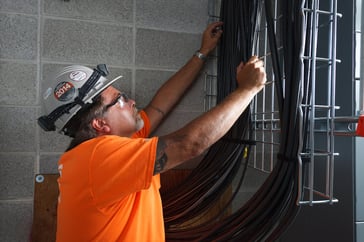 Describe the existing condition of all systems serving the area and affecting the project, if applicable. Consider data closets, cabling, electrical, building condition, possible hazards, etc.
6. Project Schedule:
Develop a project timeline and deadline.
7. Conceptual Budgeting:
It can be difficult to determine an accurate budget in the early planning stages. But armed with the above key objectives, a conceptual budget can begin to take shape that will eventually turn into a contractual estimate. See our article on Budget vs. Estimate: why you need both for accuracy to learn more about this proven process.
In Part 1 of How to Perfectly Plan a Data Communications project, we've covered the top 7 Planning Considerations. In Part 2, we'll go into greater detail with a checklist to help you accurately plan all of the structured cabling, WiFi, information outlets, safety/security, and BAS capabilities for each work area and equipment room involved with your remodeling project.
Until then, download our free worksheet by clicking the link below:
How to Perfectly Plan a Data Communications Project - Part 1: Key Planning Considerations
Then, get Part 2 of this series delivered to your inbox by subscribing to our blog on this page.