Part 2: Requirements Checklist for Data Communications Project Planning for New Construction, Remodeling and Expansions.
This is part two in a two-article series on how to effectively plan a new construction, remodel, or expansion project involving data communications. In the first article, we laid out seven key planning considerations and provided a helpful data communications project planning worksheet.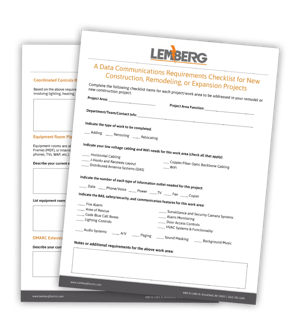 Planning a successful data communications project doesn't have to be complicated. Start with our Planning Considerations Worksheet to gain a solid understanding of the scope of your project. Then, use this checklist to thoroughly identify every need.
Here's an overview of what's included in the checklist:
Project area and functionality expectations
The type of work to be completed
Your low voltage cabling and WiFi needs
The number of each type of information outlets needed for the project
The BAS, safety/security, and communications requirements
We're confident that with the 7 Key Planning Considerations Worksheet and the Data Communications Requirements Checklist, you will be able to effectively plan your next new construction, remodel, or expansion project. Our data communications team is here to help by partnering with you every step of the way. Contact us today.
Resources Referenced in this Series: