Technology has changed the way businesses operate and the construction industry is no exception. The construction industry now embraces technology like smartphones, drones and computer aided design in daily job management.
For electrical contractors like us, technology has helped streamline projects and create a more collaborative, more efficient, and safer job site. Specifically, we see technology informing our job estimating, manpower scheduling, materials handling, and prefabrication abilities.
It starts in the office. At every stage, from bidding to closeout, technology has left its mark. Gone are the days of printing bid packets and hand delivering technical drawings. Everything from bid and estimating to close-out is done digitally.
Virtual Building Information Modeling (BIM)
With 3-D Building Information Modeling (BIM) software like Navisworks, our construction team can layout a building in virtual space. We can virtually navigate a project in real time where we can see not only our electrical layer but also layers owned by other trades. We can run diagnostics to catch any areas of conflict that could potentially affect prefabrication work, timeline, manpower and costs. That's a big benefit to a customer.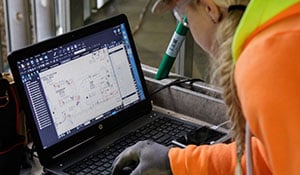 Our team can collaborate more efficiently with other trades on the job, allowing each the time and space needed to do their portion of the project right.
Accuracy Through Robotic Navigation and Virtual Construction
Robotic navigation and virtual construction have been growing in popularity in the construction industry. Using robotic navigation by Trimble, we can take the approved BIM plan and pinpoint the exact physical location of every electrical panel and box in the building within the smallest fraction of an inch.
Using the four dimensions of virtual construction – length, width, height and time -- we can create efficiencies with prefabrication and modulation. We can build the exact number of components offsite and deliver them directly to the points in the building -- where they are needed and when they are needed.
Sometimes more than just components are made offsite. We see more and more commercial builders even building out complete rooms in locations remote from the project site and transporting these modules to the job site for installation. Prefabrication and modulation create a lean, less congested, job site and a tighter project timeline.
Digital Planning, Process and Real-Time Communication
Technology has changed our processes as well. We no longer wait for updated building plans. We can remotely access digital plans and don't need to wonder whether we're viewing the latest version. Everyone from the front office to the field can view project changes in real-time and know the digital plans are accurate. We can even see a history of revisions in the form of digital overlays directly on the computer screen, laptop or tablet. We can see important project changes and catch potential issues as early as possible. Digital plans save paper and time and helps us to avoid project delays.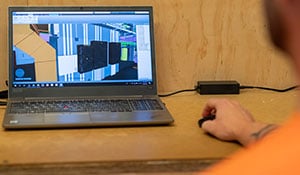 Viewing a digital plan is more accurate and carries less human error. Our estimators can digitally identify each product and produce accurate counts and measurements with the click of a button, sending the information through Accubid, our estimating, project management and purchasing software, for processing. Our estimating process alone has improved by nearly 30% as a result.
Leaner, Safer, More Agile
Lemberg works with agile construction techniques monitoring our field production and allowing us to improve our pre-fabrication and project managing processes. We gather consistent feedback and can provide timely information directly into our estimating software where everyone can be aware of it. This allows us to be more immediate in our reaction to changes in the project, saving time and costs for the customer.
A leaner, more digital process has improved every aspect of a project from estimating and kick-off meetings to communications and timelines. Overall, we're using technology in very practical ways to enhance productivity and efficiency on every level. We're looking forward to advances in technologies that we can apply in the future to enhance productivity, safety and labor shortages.
---
Pat Antkowski is Vice President for Construction at Lemberg. He and his team offer comprehensive electrical construction services including design-build, BIM and CAD services as well as full access to all of Lemberg's divisions – electrical construction, service, energy technologies, data communications, and signs. Get more information on Lemberg's Electrical Construction Services.